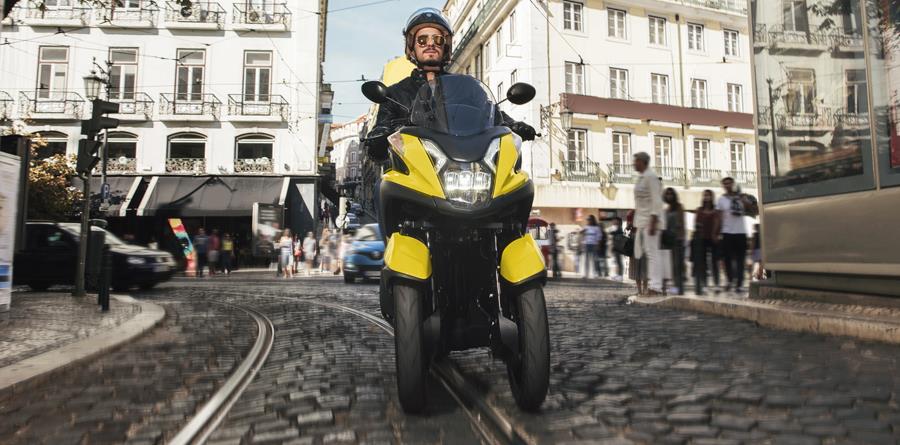 Yamaha 2017 Urban Mobility Scooters
Move. Live. Love.
Urban life can be exciting, frustrating, fulfilling, maddening, vibrant…and more. In reality, wherever you live, life is what you make it. And Yamaha's Urban Mobility models give you the total freedom to move, live and love the way you want. And see the city from a better perspective.
Yamaha Urban Mobility Scooters: The smart and economical alternative
Yamaha Urban Mobility scooters are designed to help every commuter spend less time, less money and less energy getting to and from work or college. Delivering lively performance and easy handling, every model in the range has been designed to meet the needs of Europe's commuters and help make every day easier and more productive.
Aimed at riders who appreciate the increased feelings of stability and easy handling characteristics associated with its 3-wheel layout, the advanced and innovative Tricity 125 features a new more powerful engine together with a number of significant chassis improvements and a range of vibrant new colours for 2017. As well as being faster and more economical, the latest Tricity 125 offers increased functionality with sharper style. The successful NMAX 125 continues with a range of new colours and an uprated EU4 compliant engine
And for 2017 Yamaha will also introduce the sleek and affordable new D'elight 125 that offers premium quality combined with excellent value for moneyand features an EU4 compliant engine.
New Tricity 125
Love the way I move
Featuring an exclusive leaning multi wheel design with 2 front wheels for an enhanced feeling of stability, the Tricity 125 represents the face of Urban Mobility. Everything about this user-friendly model has been designed to appeal both to new and existing scooter riders who are looking for an economical and practical way to get around the city.
Tricity 125 - Key Features

New more powerful and economical Blue Core engine
Excellent fuel consumption with stronger acceleration and higher top speed
New 13-inch rear wheel ensures high levels of stability with good roadholding
New frame with increased wheelbase gives more space with high stability
Powerful new full LED headlight for good visibility and sophisticated looks
New front pocket with 12V outlet for increased convenience and functionality
Longer and flatter dual seat ensures high level of rider and passenger comfort
Wider integrated footboards give a roomier feel with improved foot grip
Restyled rear bodywork with new passenger grips and tandem steps
ABS and Unified Braking System give powerful, controlled braking
Fuel tank capacity increased to 7.2 litres to give greater range
Increased storage space can accommodate a full-face helmet
EU4 compliant
Wide selection of Genuine Accessories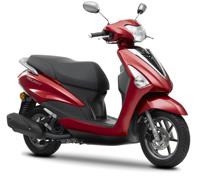 New D'elight scooter
Move smart. Live easy
The new D'elight is a compact, stylish and affordable urban commuter scooter that is designed to appeal to the many city dwellers that are looking for a viable and economical alternative to public transport. Featuring a compact new chassis and the latest generation Blue Core engine, the new D'elight further strengthens Yamaha's Urban Mobility segment.
D'elight - Key Features

New body design with compact and manoeuvrable chassis
Attractive, good quality, value for money urban commuter
Low weight of only 99kg (wet) gives easy handling and lively acceleration
Economical, powerful and reliable new 125cc Blue Core engine
Excellent fuel consumption
12-inch front wheel and 10-inch rear wheel give balanced handling
Longer 1,275mm wheelbase gives extra seating space with good stability
Unified Braking System (UBS), 180mm front disc brake / 130mm rear drum brake
Under-seat storage for one full-face helmet
5.5 litre fuel tank
EU4 compliantent.